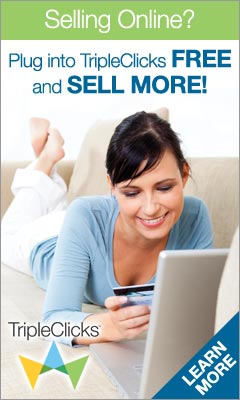 Have you ever wondered how to instantly increase your sales or how much your business could grow if you could reach millions of potential customers worldwide?
What if you had thousands of affiliates promoting and selling your products and services in over 20,000 cities in over 190 countries?
Guess what?…All of this is possible with TripleClicks…
We have been a member of TripleClicks for a month now, and we made our first sale within days of joining. I assure you we didn't do anything special to get that sale. We just signed up, got approved within 2 days, and uploaded our products. That's it.
Their eCommerce Associates Program is a new program that allows commercial sellers to market their products and services on one of the fastest growing, international eCommerce sites on the web! Continue reading →